Hello again!  I was just scouring the web and I decided that every Thursday I would post a "Daily Deals."  Actually I think I will use this time to unveil my new schedule!  You see… everyday is going to be a different idea!  How cute, huh?!  Oh yeah, I'm sure I won't stick to the agenda 100%, but I'll try!!
THE STYLE FILES SCHEDULE:
Make an Outfit Monday… one Mondays I'll post some type of outfit… maybe a cheap outfit, outfit with a certain trend, etc…
Trendy Tuesday… one this day you'll see posts concerning various trends or looks to watch out for!
Whatever I Want Wednesday… yeah I need a day that's all about me!  So on Wednesday I get to pick whatever I want!
Thrifty Thursday… in this post you will find all the daily bargains!  And believe me… they will be good!!
Favorite, Fashionable Friday… on Fridays I'll post a list of some of my favorite things in fashion!
Saw it on a Celebrity Saturday… so Saturdays will be all about celebrity fashion! 
So Random Sunday… who knows what this will be about! Sundays will be about something other than fashion…
Would you look at that piece of art!  I'm sure you all love my corny names… I sure do!  Okay… since today is Thrifty Thursday, I'll now post a couple of deals I've found!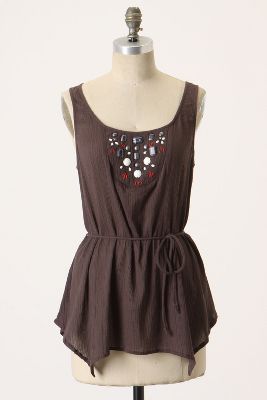 Anthropologie…On sale for $9.95…Regulary $68
This tank is soo cute!  the brown color and the scarlet beads are perfect for fall!  And it's only $9.95 when it's regulary $68! Bargain alert!
Forever 21…Only $4.99…Regularly $10.50
Love these cute flats!  The bronze color is totally in for fall… and for only $4.99, how can you go wrong?
Forever 21…Only $12…Regulary $19.80
These boots are hot again this fall so snatch up this pair from Forever 21 for only $12!!  They come in black too… but I'm really loving the grey!
Abercrombie and Fitch…On Sale for $13.93…Regulary $68
WOW! A&F Jeggings for $13.93!! Nice… We all know jeggings are hot this season so definetly pick up these soon.. while they last!!
Charlotte  Russe…Only $10.99 + 30% off…Regulary $22
This skirt is 30% off so it would actually be about $7.63! Sweet deal!  Plus, I love the color because this mahogany color is so in right now! And for only $7.63!
So there they are… the deals of the week!  And that's the end of Thrifty Thursday!  Can't wait for Favorite, Fashionable Fridays where I will be listing my favorite shoes for school!
***If you want me to add you to my blog roll, comment below!
Thanks everybody!  Comment and subscribe!
:)Kali