Good evening everyone!  Since today is Favorite, Fashionable Friday…I'm going to post a list of my 5 favorite shoes for this upcoming season. 
Coming in at 5th place is…
These TOMs are $54 at toms.com.  They are super cute.  Loving the snow leopard pattern… And for every pair you buy, TOMs will give them to a child in need of shoes!  Cute and charitable!!
Taking up 4th place is…
These Me Too flats are $89 at Zappos.com.  Every girl needs some classic flats for fall!  These are so comfy but still adorable! Win, win!
At 3rd place is…
These are some classic boots from Charlotte Russe.  Right now they're on sale for only $25!!  That just makes them all the better!  I especially love the grey-brownish color **Super hot for fall!
Coming in 2nd place is…
Check out these amazing ankle boot from Forever 21!  At only $17.50 they're are inexpensive yet super cute!  Just look at that perfect bow!  And remember… camel color is hot for fall!
And finally.. what you've all been waiting for… **drumroll** Number 1 is…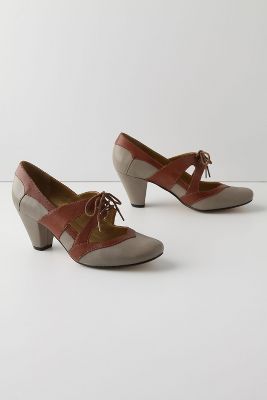 Oo-la-la! Loving these Oxford heels from Anthropologie!  A little more pricey at $90 but I do love how versatile these are… You can work them in so many different looks!  How about an edgy look with jeggings and a tan sequined tank?  Unleash the prepster in you by pairing these with khaki cropped pants and a button-down shirt!  And don't forget to try these chicas with some stylish socks!! So cute <3
Okay… well there are my top 5 shoes for fall!  Love 'em?  Hate 'em?? Let me know what you think below!!
And tell me if you want me to add you to my blog roll too!
Be sure to read my post tomorrow because tomorrow is… Saw it on a Celebrity Saturday!
Thanks everybody!
:) Kali